Monthly Archives:
February 2013
Beautiful set of Universal Ballerina Pink Rose Dishes.  This would be great for everyday use because it can go in the dishwasher and the microwave!  That's right, no gold trim so it is microwave safe.  This set is from the 1940's-50's and comes with the following:
9 Dinner Plates

8 Cups & Saucers

10 Bread Plates

8 Berry Bowls

8 Soup Bowls

Creamer & Sugar

Covered Casserole

Platter

Pitcher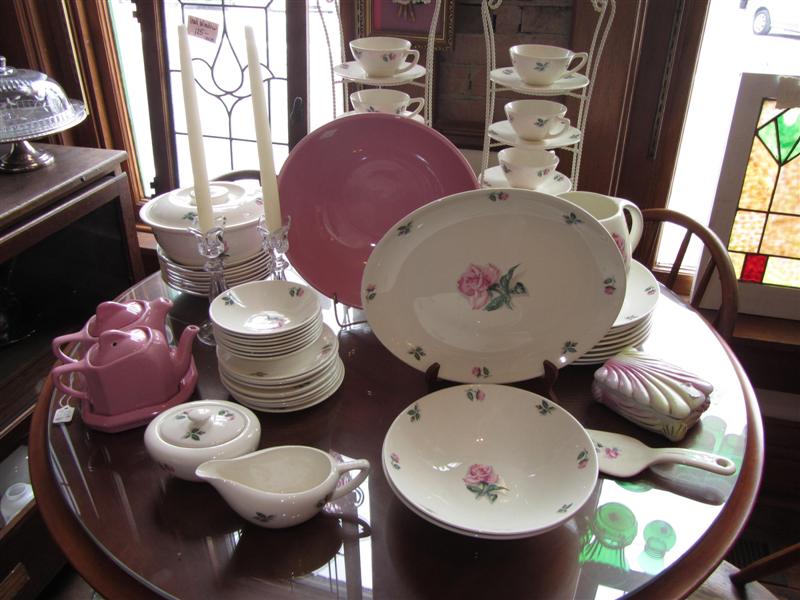 Great piece of cast iron that is actually two pieces.  There is a base that measures about 10″ in diameter and the pineapple that sits on top.  Together they stand 2′ tall.  These old cast iron pieces are great in a garden or on a porch.  Actually they would look great inside too!  this dates to the 1920's and has all the character!  Priced at 225.00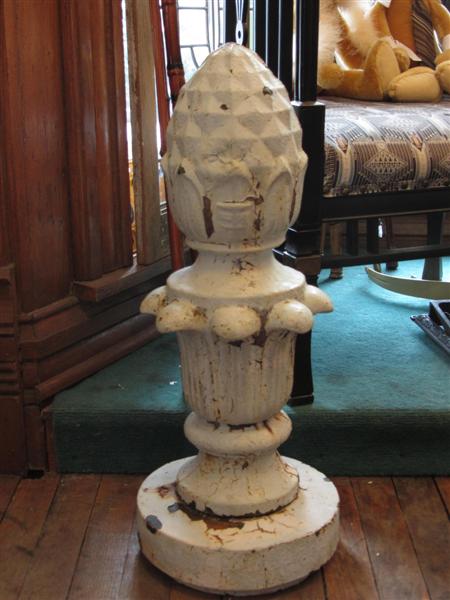 So many different patterns and different makers.  There is quite a story behind depression glass and how it came into existence.  In the late 1920's and 1930's when the States was in the middle of the Great Depression, companies were trying to get people buying their products.  To do so there were several companies, ie: cleaning, grocery stores, department stores, and many more that would give you a "promo" piece when you bought something from them.  
Being that these were "give-aways" quality was not really of importance.  You will notice in the picture that the color of pink varies.  There were many different glass companies that made different patterns and pieces.  You were unable to buy a whole set of a pattern.  You would have to collect them.  There became a few patterns that became very popular, American Sweetheart made by MacBeth-Evans, Miss America made by Hocking Glass, and Cherry Blossom made by Jeanette Glass Company are among them.
If you are looking for a particular pattern or piece, let us know!
Enjoy!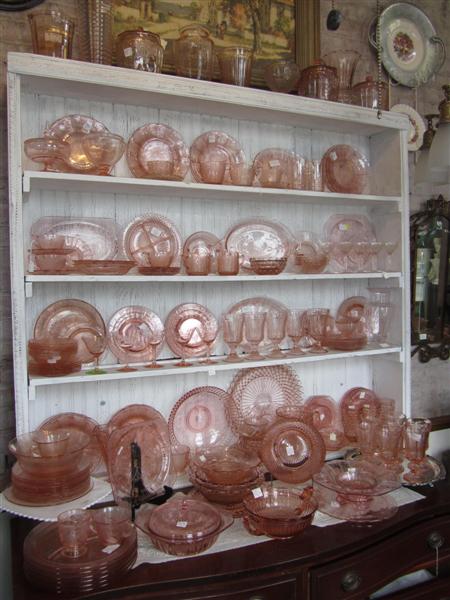 Gorgeous piece of Roseville pottery in the White Rose pattern that was produced in 1940.  This Jardiniere stands 10 1/2″ tall and is 15 1/2″ in diameter (counting the handles).  Beautiful blue pottery with white roses on each side.  Bottom is marked:  " Roseville USA 653-10″.  Great condition with no cracks or chips.  Priced at 475.00 USD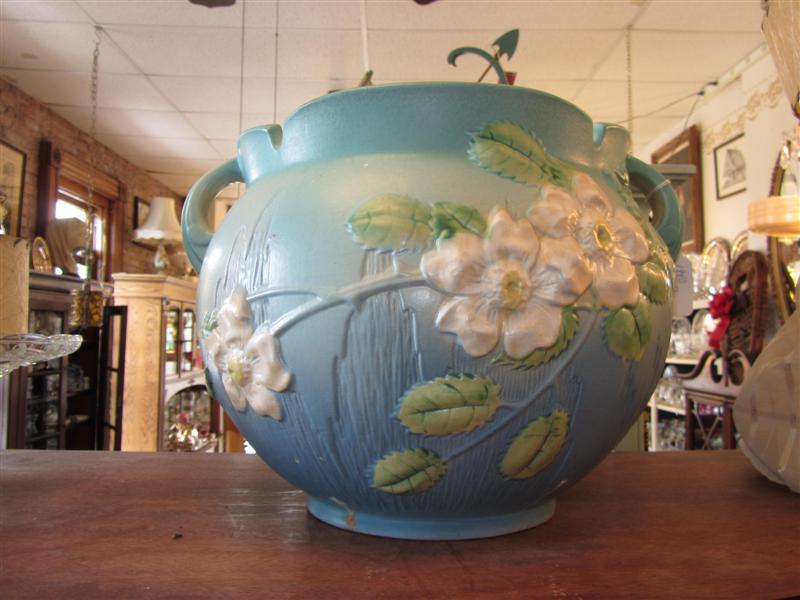 This is a three piece set produced by the Hull Pottery Company in 1955.  They call this pattern "Blossom Flite".  Pretty pale pink outside with purple, orange, and pink flowers.  The inside is a darker pink.  The console bowl measures 16 1/2″ long and stands almost 7″ tall.  The candle holders have an oval base with a finger loop, the base measures 5 1/4″.  All these pieces have a high gloss glaze and are in great condition with no cracks or chips.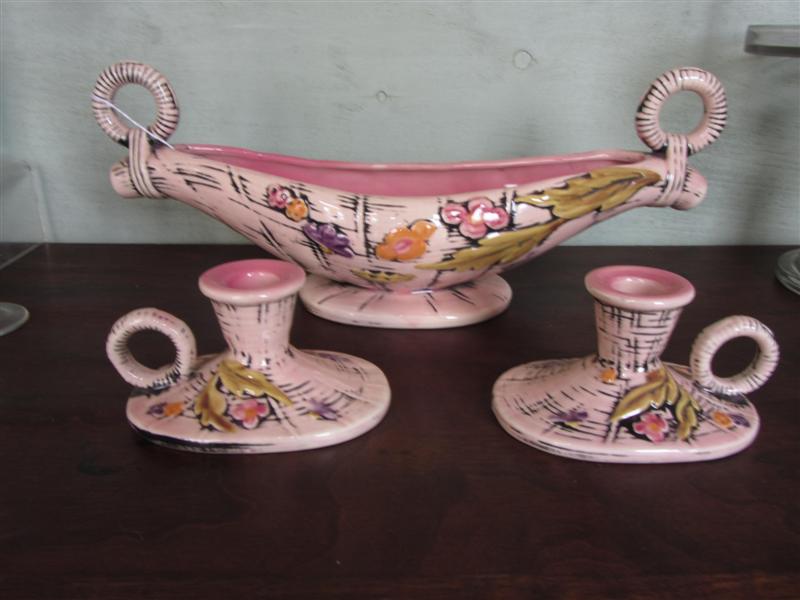 Pretty purple pitcher and tumblers made by The Northwood Glass Company from 1901-25.  Both the pitcher and the tumblers are hand painted with flowers and trimmed in gold.  The flowers almost look like daisy's too me.  The pitcher has a ruffled rim and stands 10 1/2″ tall and the tumblers are 4″ tall.  These are 100 years old and do show some minor wear to the enamel paint and the gold trim.  They have no cracks or chips.  
Five fabulous matching brass sconces with a medieval shield on the front.  Double lights are on each sconce.  They have a fluer de lis and a star on the shield.  The candle holders have what looked to be "curved crosses" wrapped around the base.  3 of the 5 sconces have the original cardboard covers.  All are marked on the back "Lincoln MFG".  These beauties date to the 1930's.  
Overall measurements are 9″ wide and 9 1/2″ long.