Monthly Archives:
October 2013
Stunning antique Juliana brooch and earrings set with lovely aura borealis stones that just light this piece up.  The main colors are red, purple, and pink.  The shine on this set is absolutely amazing!  There are also carved or molded stones that add a nice flare and texture.  These are all prong set stones.
Priced at $250.00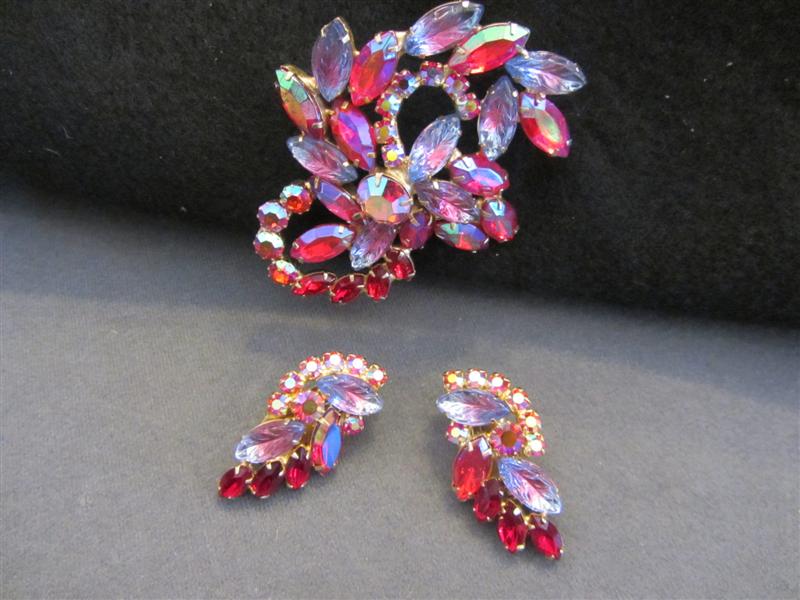 Wonderful antique necklace with red and purple stones all prong set.  Such a stunning piece the pictures just don't it justice!  Huge, chunky red rhinestones with beveled edges and others with facets set in a gold tone.  Each larger stone is set in a tiffany style setting (prongs surrounding the whole stone).   The outer layer of red stones are also all prong set.   All the stones are bright and colorful, such a fun piece.  This necklace is not signed, but it would not surprise me if this was a Juliana piece.
Priced at $285.00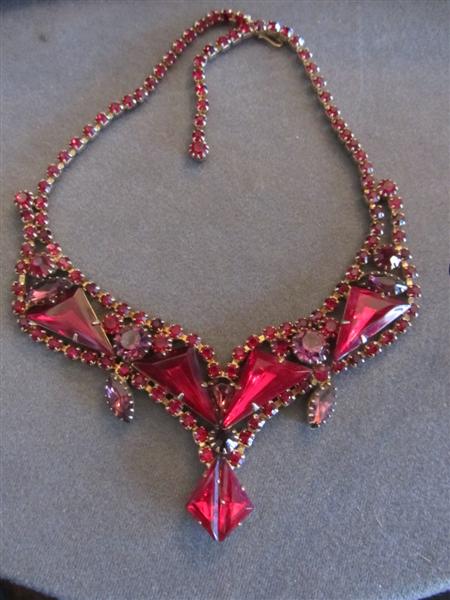 Fantastic Juliana Bracelet in the "Sticks and Stones" pattern.  Vibrant red and black stones with some aura borealis stones just top off this fantastic piece.   Such a quality piece with prong set stones and a safety chain too.  Unmarked but distinguished by the "5 link" construction on the back.  Set in gold tones.
Priced at 275.00