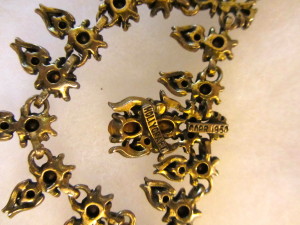 Hollycraft Jewelry was founded in 1938 and is always signed and dated.  They got their start in the jewelry business renting jewelry to the movies and movies starts.  Their best known for their Christmas pins and colorful and intricate designs.  Bright and vivid  stones, that have many facets and are quite an eye catcher.
This wonderful bib style necklace is no different!  It has a 16 1/2″ length and a 2″ drop at the center that gradually comes together with a gold tone chain.  There are many colors in this lovely creation.  Pinks, greens, purples, and blues. in different shades that are just spectacular.  The clasp has a pink stone on one end and a blue on the other.  Detail down to the clasp!
The earrings are a dangle clip and have a drop of 1 1/2″.  All the same lovely pastel colors that are on the necklace follow through with the earrings.  
Both pieces are signed and dated Hollycraft 1950.  No missing stones and in amazing condition.
$350.00 set