Architectural
 C1885 Solid Brass Doorknobs 6 sets.  Each set includes 2 knobs and 2 escutcheons.  Very ornate with lots of detail.  Each knob is "rounded" at the top.  The escutcheons measure 2″ in diameter and the knobs are almost 2 1/2″ in diameter.
We would like to keep these all together and as a set sell for $570.00 or $125.00 each
WOW!  So rare that we find any matching antique hardware.  These are just beautiful and complete!
We have six sets, (that means a total of 12 knobs and 12 door escutcheons -backplates).  They are all polished up and ready to be installed.  These have an ornate clam shell patten on the doorknobs and the escutcheons.
The oval knobs measure 3″ long x 1  3/4″ wide.  The escutcheons measure 7 1/2″ long x 2″ wide.  
Would like to sell all together.  $125.00 Each Set or $570.00 for all six
G
orgeous antique green, purple, and yellow stain glass window.  Wonderful condition with no cracks or damage.  Set in old wood window frame.  Vintage window measures 32″ x 21″ a transom shape.  
The center has a large flower with clear beveled glass.  Looks like a fleur de lis almost.  Beautiful textured stain glass that you don't find often.
$600.00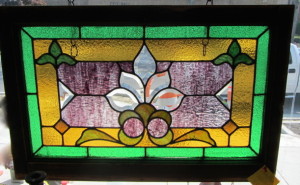 Two beautiful beveled glass windows.  These were taken out of old homes in Detroit from the Boston/Edison neighborhood.  They are in amazing condition and every single piece of glass is beveled.  There is no damage, they are in great condition!
Great criss cross pattern along the top and bottom with a shield or crest in center.
Each window measures 29″ x 24 1/2″.  The frames are wooden and very solid.
495.00 Each
These four windows all date to the 19c.  They are in excellent condition and have no damage.  These are the original wooden frames too.  The lead has been strengthen and there are no breaks in the glass.  
Each window frame measures 19 3/4″ x 24 3/4″.  The inside is without the frame is 15 1/2″ x 19 1/2″.    Each of these panels is different.  
Two of the windows have a landscape scene and the other two have a castle or some type  of dwelling.  The colors are bright and vivid and would compliment any decor.
Set of four windows $3000.00
Gorgeous Antique Stain Glass Window measures 24 1/4″ x 22″.  It is in excellent condition with no cracks or damage.  Wonderful Art Deco style design with warm colors of green, orange, and browns.  As you can see in the photo, the slag glass pieces (in center) are thicker and not as translucent as the surrounding pieces.  
This Cast Iron bathtub is in amazing condition and a rare shape!  There is no rust or holes anywhere on this tub.  The enamel is in great condition with no damage as well.  The legs are attached to the tub and have no damage either.  We have never seen a tub that is "squared-off" like this around the edges.
The great thing about these old cast iron tubs is that they keep your water HOT!  You can soak forever!
This tub measures 5′ long x 31 1/2″ wide (outside measures).  The flat edge rim that goes around the side is 4″ wide with a nice rolled edge.  This particular tub has the legs that are attached.  They measure 5″ tall.  They have a "graduated" type design to them.
Gorgeous Bronze louvered Wall Register.  You sure don't see many like this!  So much detail to a furnace grate.  This measures 15 1/2″ x 13 1/2″.  You can have the front "flip" out towards you and lock into place with a lever.  Even the top part of the louver is decorated with a scroll and floral pattern.  Priced at 175.00