Stemware & Glass
Glass, Crystal, Depression Glass, Elegant Depression, Pressed Glass, Cut Glass,
Ten terrific vintage brandy snifters that were never used.  The tag is actually on one of them still.  They are all marked on the bottom along with a sticker that is still on one.  These are in excellent condition with no chips or cracks.  Stunning Crystal Clear  glass .  They stand 4 1/8″ tall, the base measures 2 3/4″, and the top opening is 2 1/2″.   They hold so nicely in your hand too!  The grape leaf and grape bunch pattern is etched and repeats itself 3 times on the glass in between a "star and pineapple" design.  These are made in Germany. 
Priced at 120.00
Service for 4 Fire King's  "Charm" pattern in forest green.  This is a great set of great green glassware.  The theme of the dishes are a square pattern. These lovely glass dishes are in excellent condition with no cracks or chips.   This set consists of 38 pieces.  This service for four includes the following:
 Dinner Plate 9 1/4″ 

 Luncheon Plate 8 3/8″
 Salad Plate 6 5/8″
Dessert Bowl 4 3/4″
Cups & Saucers
Soup Bowl 6″
2- Platters 11″ x 8″
2- Serving Bowls 7 1/2″
4- Tumblers 4 1/2″ tall
This charm pattern was produced from 1950-56.   These pieces were not marked on the glass but rather had stickers.  This service is 250.00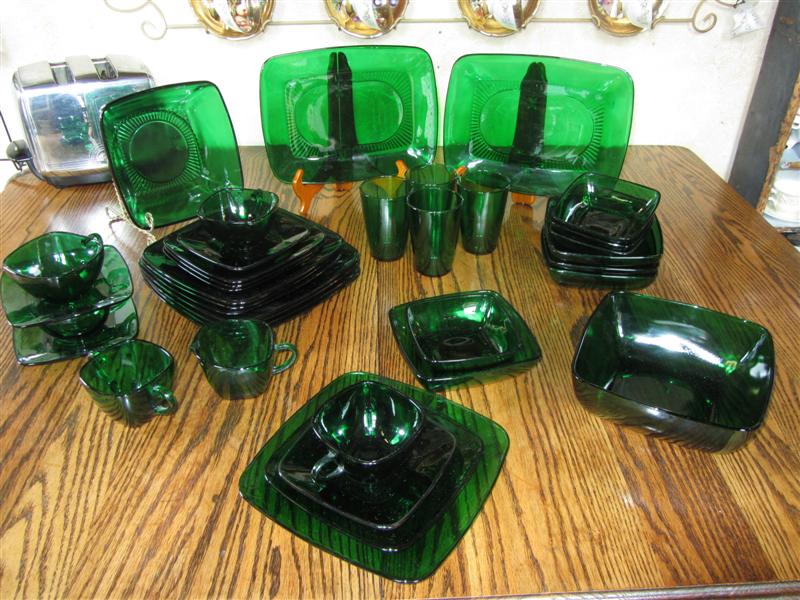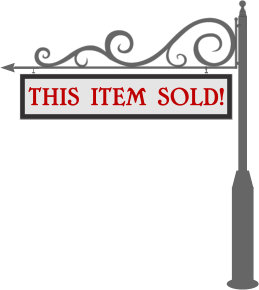 So many happy things in the red cabinet.  The top shelf has 6 juice glasses that have cherries on them.  Besides those are the Fire King Polka Dot Bowls.  The bottom is a mixing bowl, sitting on top is a grease jar with the lid.  The middle shelf has a super cool Brad Keeler Lobster dish and a nice red Pyrex left-over dish.  The bottom shelf has a Hall "sundial" pattern covered casserole dish and there are some Hazel Atlas Striped tumblers too.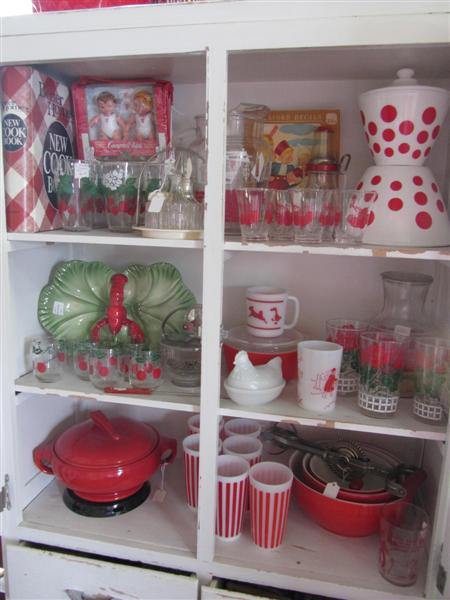 Fabulous Forest Green Pitcher and Tumbler set in the a "Ripple" Pattern.  Anchor Hocking Glass Company produced this Forest Green from 1950-67.  There are four tumblers that hold 9 1/2 oz and the pitcher holds 86 oz.  All five pieces in great condition with no cracks or chips.  Ready to serve up whatever you are making!  Priced at 80.00 for the set.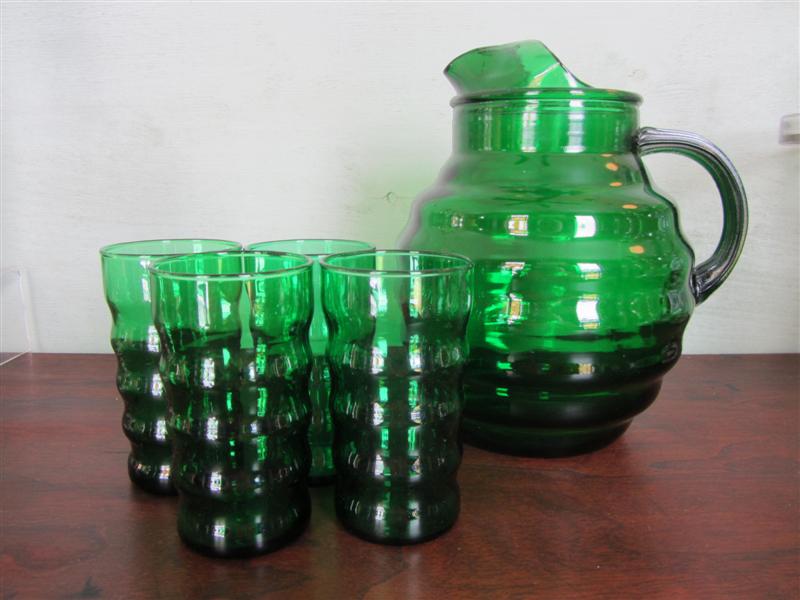 9 piece canister set with lids.  These were produced by Owen-Illinois in the 1930's at the West Virginia Plant.  This set comes with three different sizes.  The largest canisters measures 7 1/4″.  The labels are for Coffee, Sugar, Flour, & Cereal.  The next highest measure 5 1/4″ tall.  There are two Rice and Tea.  The smallest stand 4 1/4″ tall.  Sugar, Pepper, and Salt.  The last three all have the shaker lids.  The others all have aluminum lids that are in nice condition.  You will notice that some of the labels are a worn a bit more than others, but they are old!  
All of them are great condition with no cracks or chips.  The diagonal ridged pattern is on all nine jars.  They are all marked on the bottom too with the Owen-Illinois diamond in the circle too.  Priced at 195.00 for set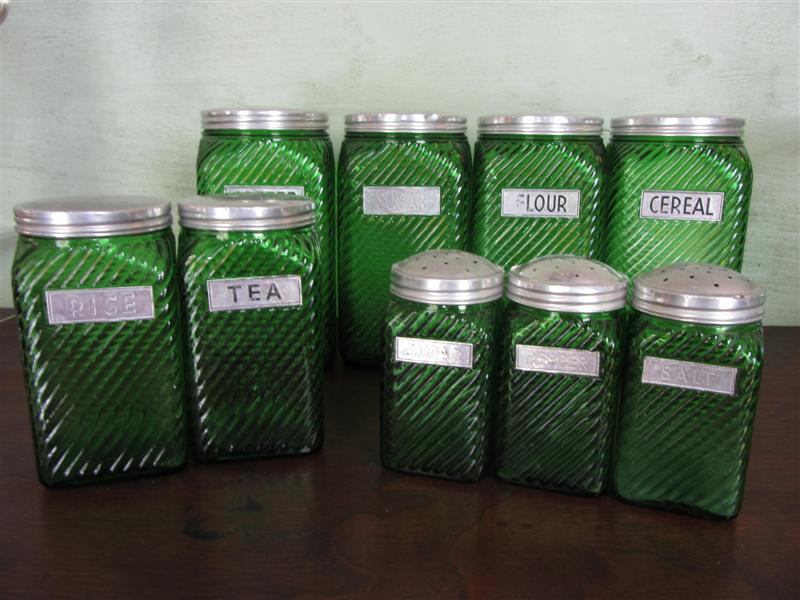 Fabulous Forest Green Glass!  Pictured here are a few pieces.   Anchor Hocking Glass actually copyrighted the name "Forest Green" back in the late 1940's.  You may also recognize these patterns in their other color of  "Ruby Red".
This punch bowl that you see here comes with the original box.  The full sets consists of:
12 Cups

Punch Bowl 10″

Punch Bowl Base
The two decanters have ground glass tops and were also produced by Anchor Hocking in their Fire King Division.  They are in wonderful condition with no damage.  They have the "pinched" sides that makes for easy handling.  They stand 11″ tall.
Also shown are tumblers in the "Inspiration" pattern, often confused with the "Boopie" pattern.  We have 3 juice glasses and 5 Ice Tea Tumblers.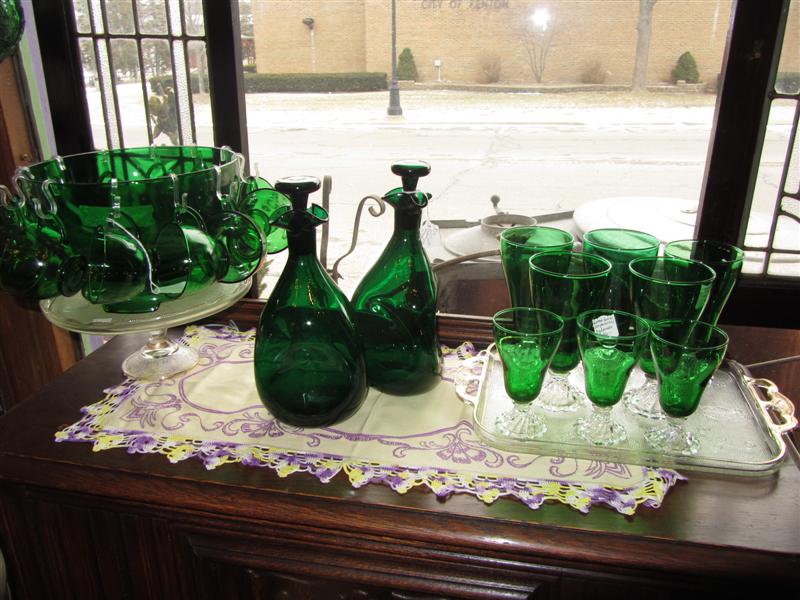 So many different patterns and different makers.  There is quite a story behind depression glass and how it came into existence.  In the late 1920's and 1930's when the States was in the middle of the Great Depression, companies were trying to get people buying their products.  To do so there were several companies, ie: cleaning, grocery stores, department stores, and many more that would give you a "promo" piece when you bought something from them.  
Being that these were "give-aways" quality was not really of importance.  You will notice in the picture that the color of pink varies.  There were many different glass companies that made different patterns and pieces.  You were unable to buy a whole set of a pattern.  You would have to collect them.  There became a few patterns that became very popular, American Sweetheart made by MacBeth-Evans, Miss America made by Hocking Glass, and Cherry Blossom made by Jeanette Glass Company are among them.
If you are looking for a particular pattern or piece, let us know!
Enjoy!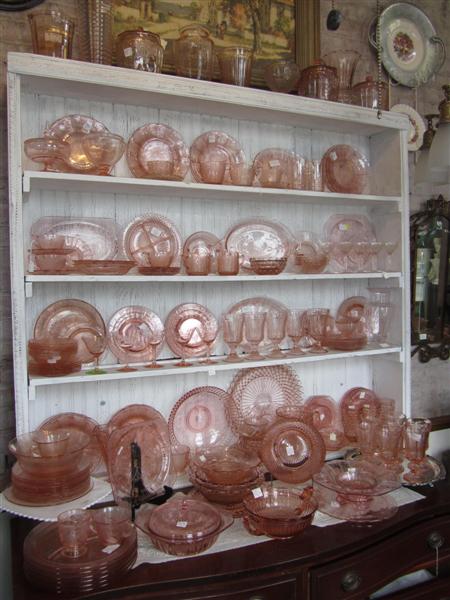 Pretty purple pitcher and tumblers made by The Northwood Glass Company from 1901-25.  Both the pitcher and the tumblers are hand painted with flowers and trimmed in gold.  The flowers almost look like daisy's too me.  The pitcher has a ruffled rim and stands 10 1/2″ tall and the tumblers are 4″ tall.  These are 100 years old and do show some minor wear to the enamel paint and the gold trim.  They have no cracks or chips.  
3 piece Duncan Miller Compote Set.  This consists of the Bowl and two candle sticks.  This hobnail pattern is prettier than most with an iridescent pale pink color.  The main part of the glass is pink and the hobnails are a milky pale pink.  The candle stick holders stand 5″ tall and the compote bowl measures 11″ in diameter.  The bowl has a scalloped or ruffled edge.  All three pieces are in excellent condition with no cracks or chips.  We also have three stemmed glasses that could be for wine or water.  These are priced separately at 60.00 for three.  The compote and candle sticks are priced at 125.00 usd