Lighting
     Three amazing antique wall sconces that date to the 1930's.  These three have the original paint on them that has an fabulous patina to them with greens, golds, and a bit of burgundy as an accent.  All three of these antique light fixtures have been rewired and fitted with the smaller candelabra style light bulbs.  These double armed sconces also have new candle slip covers on them as well. 
The overall approximate measurement is 10 1/2″ tall and 10 1/2″ wide .  These are priced at 375.00 for set.
\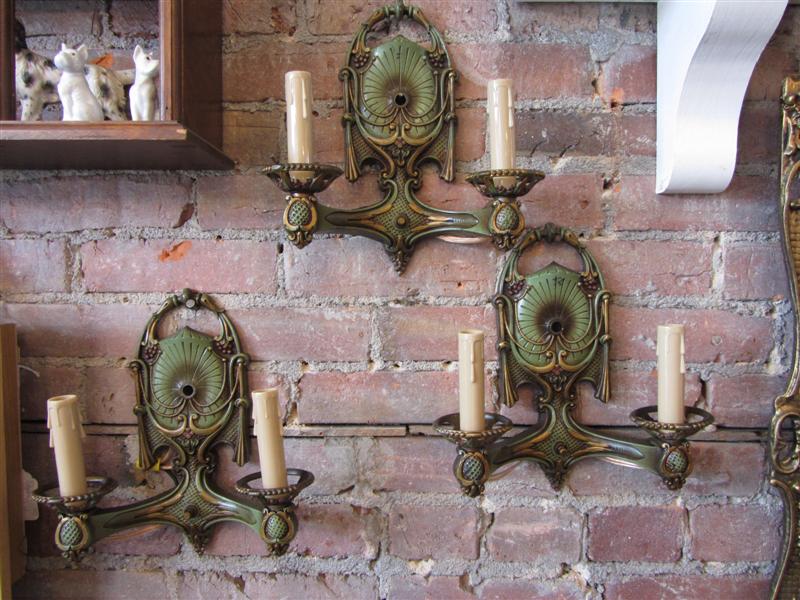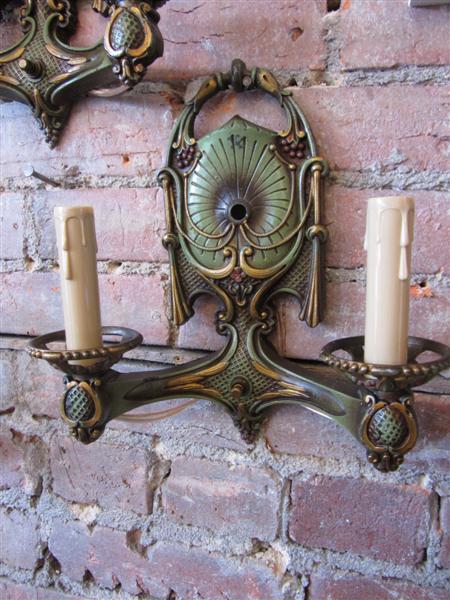 Five fabulous matching brass sconces with a medieval shield on the front.  Double lights are on each sconce.  They have a fluer de lis and a star on the shield.  The candle holders have what looked to be "curved crosses" wrapped around the base.  3 of the 5 sconces have the original cardboard covers.  All are marked on the back "Lincoln MFG".  These beauties date to the 1930's.  
Overall measurements are 9″ wide and 9 1/2″ long.  
Pretty petite antique crystal chandelier.  This is all crystal and has been rewired with white cloth wire.  The top has an umbrella shaped bobeche that has 18 rows if cut crystals that all come down to a point.  The flat crystals give a great sparkle of color with all the facets.  This measures approx. 11″ long and about 8.5″ in diameter.
Stunning 5 arm Antique Cranberry Czechoslovakian Chandelier!  This chandelier dates to the 1930's.  Cranberry Glass with  layered milk glass that is all mouth blown with  hand painted flowers that decorate this lovely light fixture.  There are lots of cut glass crystals that just make this POP!
This chandelier measures approx.  28″ long and about 21″ in diameter (these measurements are taken to the bottom of the crystal).  There is no damage and it has been rewired with white cloth wire.  Pictures just don't do this piece justice.  Priced at 1200.00 usd