Bracelet
Wow! It's all here. A complete signed set of Weiss Jewelry. Brooch, clip earrings, bracelet, and necklace. It is all in amazing condition. I don't think it was ever worn, how unfortunate! All the faceted rhinestones are all prong set. The larger round rhinestones are multi prong set or "dog-toothed". They don't even set diamonds this way!
The necklace has a rolled mesh edge with prong set rhinestones along side it. This necklace could be worn either way. The rhinestones on top or bottom. The necklace measures 15 1/4″.
The bracelet measures 6 1/2″ long. The purple prong set stones are along the outer edge and the center has larger round faceted dog-toothed stones. In between is gold tone metal. 
The earrings are a "button style" measuring 1 1/8″. The center stone is purple and surrounded with a fushia and purple colored rhinestones. The earrings are clips. They work well and not loose at all.
The brooch is a circle and measures 1 1/2″ in diameter. The pattern repeats with the dog-toothed faceted stones and gold mesh.
All pieces are signed and show no signs of wear. The gold is all in amazing condition.
$250.00
Eisenberg got his start out making clothing. He would embellish his blouses with brooches, but the ladies were stealing them! So he stopped making clothes and started making jewelry. The company is still in business today. You can date their items, but the mark.
This bracelet has a mark from the 1930's.
The bracelet is just amazing and has the shiniest rhinestones. The many facets capture the light and are brilliant. The measures 8″ long, quite large for a piece this old. All prong set and safety clasp. Well made piece of jewelry
$250.00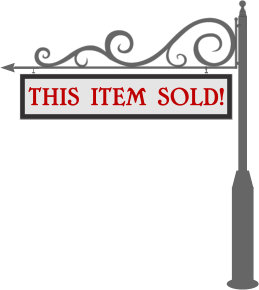 Beautiful Baby Blue Eisenberg Bracelet and Earrings!

The bracelet measures 7″ long. The rhinestones are prong set and graduate to larger stones in the center of the piece. There is four raised silver "bands" that have a row of rhinestone on them. 
The earrings are a clip style and have 3 large faceted stones, 2 blue and one clear. Then there is a "band" around one blue stones with pave set style rhinestones. 
The bracelet and earrings are both marked: "Eisenberg".  All pieces have a rhodium back and are very clean.
Simply stunning set. Dress up a pair of jeans and a great blouse with this set!
$295.00
Beautiful Bracelet with green and clear rhinestones set in a high polished gold tone metal. The bracelet measures 7″ long x 3/4″. The clear rhinestones are set pave style, while the three emerald green stones are prong set and are faceted stones.
McClelland Barclay was best known for his artwork in Hollywood and for General Motors. He came up with the "Fisher Body Girl" and several posters for the government for the war. His jewelry company was a short lived business from 1930-42. He was called to action during WWII and his ship was torpedoed and his untimely death imminent.
$125.00
Miriam Haskell Gray Baroque Pearl Bracelet
 Lovely two-strand baroque bracelet by Miriam Haskell.  This measures 7″ in length.  One stander has slightly larger pearls.  Each pearl has a bead or spacer in-between.  The finish on the pearls is in great condition with very minimal wear.  The clasp is a larger pearl, measuring 3/4″ in diameter with a prong set setting.  Back of clasp is marked with oval circle "Miriam Haskell".  
Great color, gray (grey), but a light color, with silver tones to it.  
$95.00
Classic Crown Trifari Bracelet and Earring Set
This vintage pearl bracelet and earring set is in wonderful condition with no missing rhinestones or pearls.  The gold shows no wear and looks amazing for its age!  Both pieces are marked with the crown Trifari mark.
The bracelet measures 7″ in length.  Fold over clasp and also a safety chain.
The earrings are clip style and measure approx. 1″.  
Pearls are such a classic and can be dressed up or down.  Dressing up just a pair of jeans and a nice blouse!
$60.00
Two-tone purple vintage jewelry set.  Wonderful craftsmanship with all prong set stones.  the light lavender stones are square and the amethyst stones are "emerald cut".  Gold tone backing, no mark.
The necklace is 14 1/2″ long with a 2″ drop in the center. Lovely two layered design gives this a great look!
The bracelet measures 7″ long with fold over style clasp.
Earrings are a screw back and do have a bit of a dangle.  They hang 1 1/2″.
Set 175.00
Super sweet and stylish silver necklace, bracelet and pin/brooch set.  All pieces marked in various places.  The detail to the craftsmanship is amazing.  The aqua or turquoise beads are all hand wired in and part of the wire design on the front.  The silver has a two leaves with a single flower, in the center of the flower the blue bead.  This is followed by a "Cuban link chain".  It is a standard cable chain with oval shaped links that resemble rope.  
The necklace has 3 pendant pieces the center being the largest and measures 1 1/4″ and the two beside it measuring 1″.  The total length of the necklace is 18 1/2″.  It has a "hook" style clasp.
The bracelet is made of similar construction on a smaller scale.  The three pendants in the center are all linked to gather (top and bottom).  The largest measures 1″ and the two on either side is 3/4″.  The total length is 7 1/2″ long.  
The brooch or pin measures 1 1/4″ in diameter.  The clasp is hinged and also a "push-in" style.
$195.00