China
Haviland Limoges
"Juno"
c.1880
11 Dinner Plates 10″

12 Soup Bowls 7 1/2″

12 Salad Plates 7 1/2″

11 Cake Plates 6 1/4″

12 Berry Bowls 5″

8 cups & Saucers
Serving Pieces:
Large Oval Platter 16 1/4″

2 Oval Platters 12″

2 Oval Vegetable Bowls 10 1/4″

Small Oval platter/relish 8″

Small Serving Bowl 5 1/2″ x 2 1/2″

Covered Casserole 9 1/2″

Handled Serving Vegetable 9 3/4″

Gravy Boat w/ attached liner

Creamer and Sugar w/lid
These dishes are all in excellent condition with no cracks or chips.  All are marked on back:  "Haviland Limoges & Co.  As you can see there are plenty of serving pieces to this set.   Priced 450.00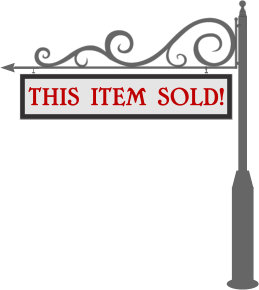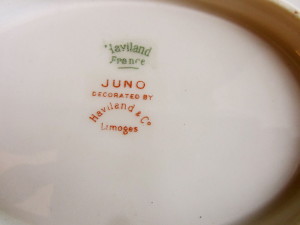 Such a stunning and striking color, this dish set really sets the tone!  "Moderntone" is the name of the pattern that Hazel Atlas produced from 1934-42.  We have 39 pieces to this set.
12 Plates 9″

1 Plate 8″

9 Plates 7″

8 cups and saucers

Vegetable Bowl
All of these pieces are in nice condition with minimal scratches.  The vegetable bowl does have some chips on the inside rim,  the other pieces have no cracks or chips  Price for the 39 pieces is 150.00.
There are also some tumblers on the table that were made by Hazel Atlas.  These terrific tumblers are part of the "Sportsman Series".  They stand 5″ tall and have four different dogs etched on them.  There is a boxer, scottie, afghan, and a smaller dog that I am not sure.  These tumblers are sold separately and are priced at 60.00 for 4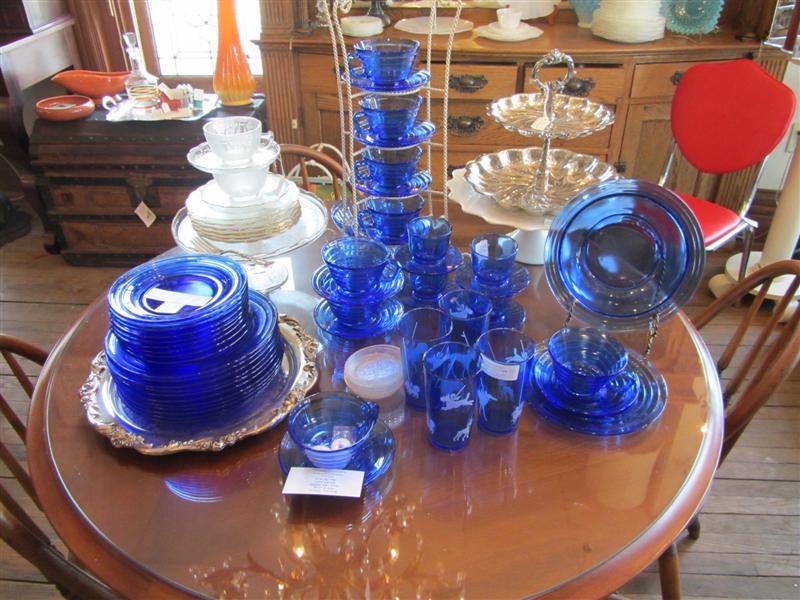 American Sweetheart was produced by the MacBeth-Evans Glass Company from 1930-36.  This pattern does come in a few different colors.  This colored is called "Monax".  It is a translucent white that is as delicate as it looks.  The edges are scalloped and adorned by the floral pattern.
We have several pieces in this pattern.  We are selling them individually, the prices are as follows:
Great German Set of dishes, service for 12.  Quite an extensive set of china, this set includes a lot of serving pieces.  All pieces have a scalloped edge and are trimmed in gold.  All of these pieces are marked on the back:  "Hutschenreuther Selb Bavaria Germany Pasco Magnolia".  Each piece has a soft pale pink magnolia, one bloomed one bud.  This set consists of:
12 Dinner Plates

12 Double handled Soup bowls w/Liners

12 Cups and Saucers

11 Sandwich Plates

12 Bread Plates

8 Berry Bowls

Gravy Boat with attached liner 

Oval Serving Bowl

Round Serving Bowl

Oval Plate

Covered Casserole Dish

Small Oval Platter

Large Oval Platter

Creamer & Sugar
All of these pieces are in excellent condition, with hardly any signs of use or wear.  There is one teacup that has a crack in it.  The reset are undamaged and have no cracks or chips
Priced at 325.00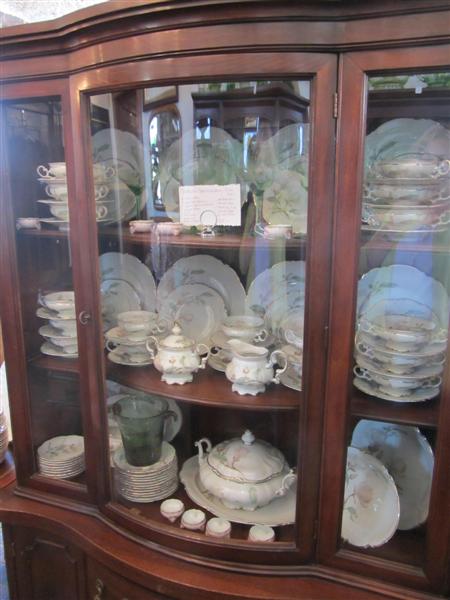 Service for 4 Fire King's  "Charm" pattern in forest green.  This is a great set of great green glassware.  The theme of the dishes are a square pattern. These lovely glass dishes are in excellent condition with no cracks or chips.   This set consists of 38 pieces.  This service for four includes the following:
 Dinner Plate 9 1/4″ 

 Luncheon Plate 8 3/8″
 Salad Plate 6 5/8″
Dessert Bowl 4 3/4″
Cups & Saucers
Soup Bowl 6″
2- Platters 11″ x 8″
2- Serving Bowls 7 1/2″
4- Tumblers 4 1/2″ tall
This charm pattern was produced from 1950-56.   These pieces were not marked on the glass but rather had stickers.  This service is 250.00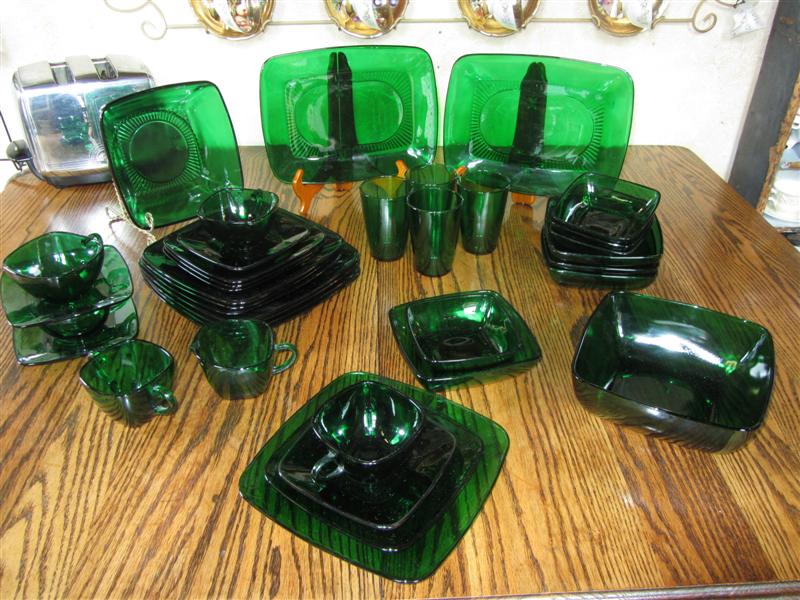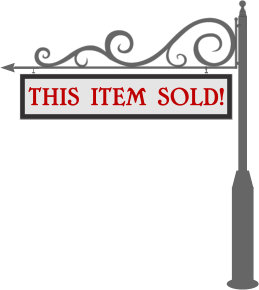 Beautiful set of Universal Ballerina Pink Rose Dishes.  This would be great for everyday use because it can go in the dishwasher and the microwave!  That's right, no gold trim so it is microwave safe.  This set is from the 1940's-50's and comes with the following:
9 Dinner Plates

8 Cups & Saucers

10 Bread Plates

8 Berry Bowls

8 Soup Bowls

Creamer & Sugar

Covered Casserole

Platter

Pitcher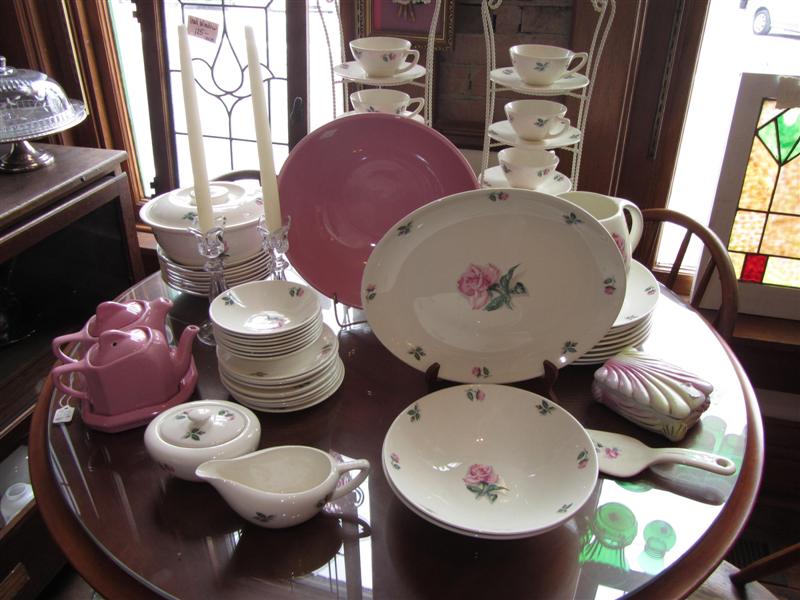 Beautiful Cup and Saucer made by Royal Albert.  This is apart of the "Woodland Series" the Baltimore Oriole.  This Bone china set is trimmed in gold and on a white background.  Vivid graphics with a Baltimore Oriole on both the plate and cup.  Wonderful condition with no cracks or chips.  Priced at 30.00 usd.
Royal Winton Grimwades Lusterware Teapot Set.  This sweet set consists of the teapot with a lid and creamer and sugar bowl.  All in wonderful condition with no cracks or chips.  Gorgeous glaze that is luster ware style. Lusterware is a type of pottery or porcelain with a metallic glaze that gives the effect of iridescence  produced by metallic oxides in an over glaze finish.   

The edges are all in trimmed in gold.  There is no cracks or chips or damage of any kind.  The bottom is a light green that blends into a cranberry pink color that goes back to green at the top.  Bottom is marked:  "Royal Winton Grimwades Made in England".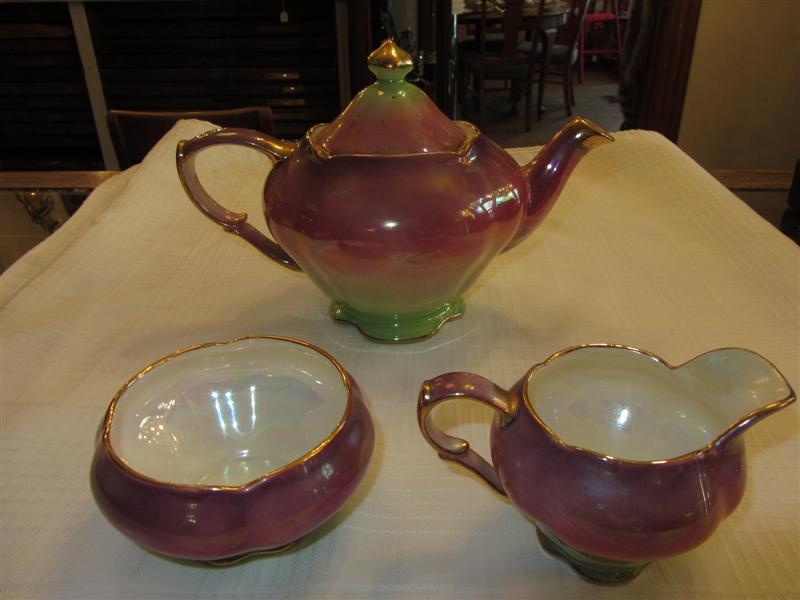 Super sweet Shelley Teapot set in the Primrose pattern.  Teapot and cups and saucer are all in excellent condition with no cracks or chips.  The cups and saucers have scalloped edges that are trimmed in a soft green.  The petite yellow flowers on the front are also on the inside of the cup as well.  All pieces marked:  "Shelley Fine Bone China England Primrose" on the bottom.