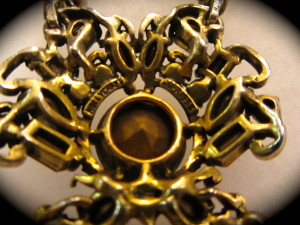 Hollycraft Jewelry was founded in 1938 and is always signed and dated.  They got their start in the jewelry business renting jewelry to the movies and movies starts.  Their best known for their Christmas pins and colorful and intricate designs.  Bright and vivid  stones, that have many facets and are quite an eye catcher.
This necklace is quite stunning with its large impressive stones and the variety of shapes and colors that make up this piece.  The necklace measures 16″ long with a large cluster of pastel stones, surround one rather large purple one.  Below this cluster is a "emerald-cut" style purple stone.  The movement gives this necklace a nice dimensional look as you move.
There are a lot of amazing colors that make up this necklace.  Pale purple, pinks, baby blue, soft yellow, light lime green, periwinkle, and turquoise.  too have so many colors come to gather is quite a bold statement, but it all looks stunning.
The clasp is adjustable and is has four different color stones on one of the ends.  This is the kind of detail that Hollycraft was known for.
$350.00