Architectural
 Just in a gorgeous green stain glass measuring 22″ x 29″.  This  amber hammered glass background, terrific hand bevel oval in the center, with a green/white ripple glass border. All the glass is in excellent condition with no cracks or damage.  The lead has also been reinforced so there is no sag in the glass.  Such an unusual
 color there are three different shades of green.  This was in an old house, hence the wooden frame.  This can be hung either way, vertically, like we have it or sideways like a transom window.  Priced at 395.00.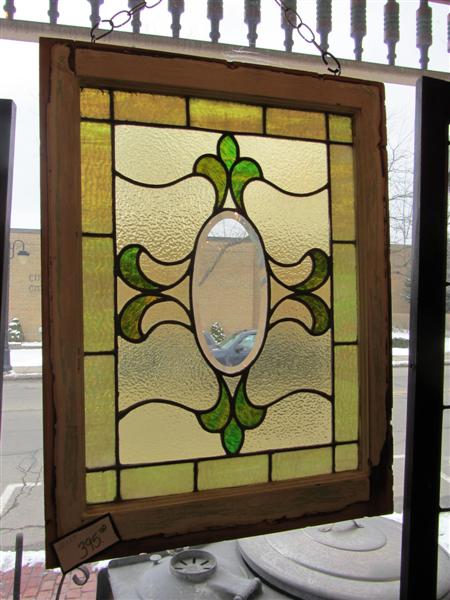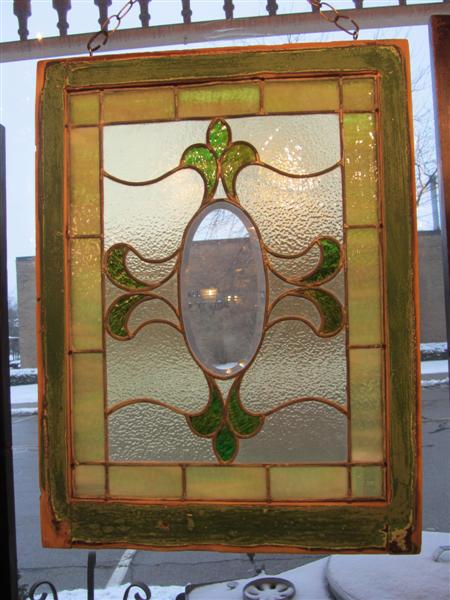 Just a small example of some different doorknobs we have.  There are four sets here in different patterns and a few that are purple.  This purple comes from an older glass knob that has seen the sunlight for years and years.  There is a chemical reaction that happens from the sun and the lead in the glass.  
There are several pattern, sizes, and shapes of glass doorknobs.  Most of these can also be used in the doors today.  
Great piece of cast iron that is actually two pieces.  There is a base that measures about 10″ in diameter and the pineapple that sits on top.  Together they stand 2′ tall.  These old cast iron pieces are great in a garden or on a porch.  Actually they would look great inside too!  this dates to the 1920's and has all the character!  Priced at 225.00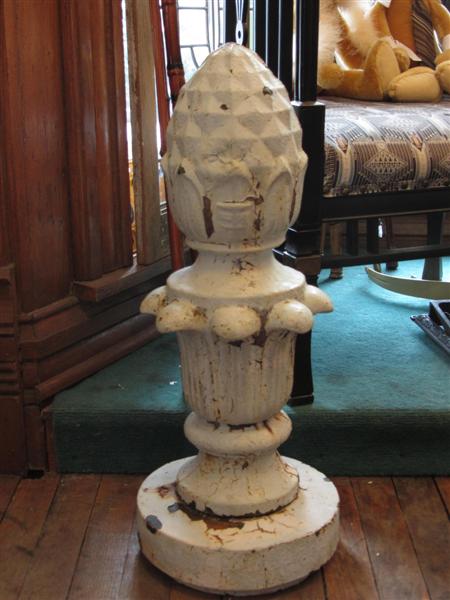 Super Sweet Manchester Transom Stain Glass Window.  This lovely antique stain glass has 5 roundels set in a textured transparent glass.  There is a lovely color palate of pinks, greens, purples, and yellows.   All the glass is in great condition with no cracks or chips.  The lead is all tight with no sag.  This piece measures 24″ x 14″.  Priced at 250.00 USD
This is a nice large antique beveled Glass Window that measures 29″ x 28″.  There are 21 pieces of beveled glass and all are in wonderful condition with no cracks or chips.  All the lead is tight and has no sag.  There is a wooden frame around the outside, not sure of the kind of wood, it is painted green.  Priced at 425.00 USD.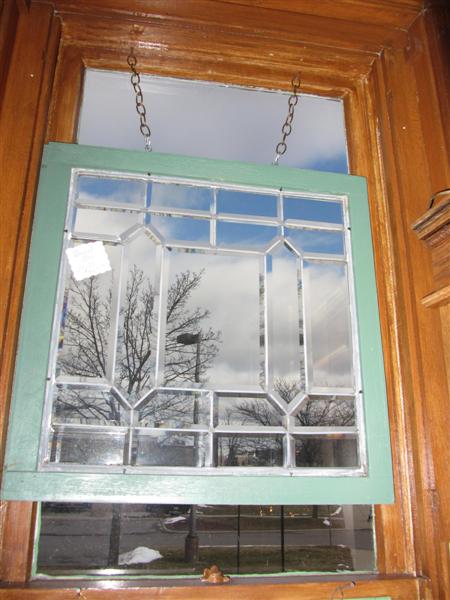 Lovely Leaded antique beveled window that measures 25″ x 22″.  This originally was a cabinet door.  There are a lot of great beveled edges that reflect the light beautifully.  The lead between the glass is all tight and has no sag.  Wooden frame surrounds this and the original  hardware for the cabinet remain.  Priced at 275.00 USD