Jewelry
Two-tone purple vintage jewelry set.  Wonderful craftsmanship with all prong set stones.  the light lavender stones are square and the amethyst stones are "emerald cut".  Gold tone backing, no mark.
The necklace is 14 1/2″ long with a 2″ drop in the center. Lovely two layered design gives this a great look!
The bracelet measures 7″ long with fold over style clasp.
Earrings are a screw back and do have a bit of a dangle.  They hang 1 1/2″.
Set 175.00
This amazing brooch has a fabulous "fan" shape.  A variety of green stones in different shapes and sizes really makes a statement.  There are aura borealis stones and pearls that bring it all together capturing all the colors.  Set in a gold tone setting and marked on the back: "Kramer" and also "Made in Austria".  This brooch measures about 2 1/4″ in diameter.  
Kramer Jewelry Creations started in 1943 in New York and closed their doors in the late 1970's.  In the early 1950's they also manufactured pieces for Christian Dior.
$85.00
Beautiful Blue Brooch! What a lovely combination of bright baby blue rhinestones and bluish-grey pearls. 
The back is rhodium and these stones are all dog-toothed prong set.  All these stones are highly faceted and shine brilliantly.  This pin is marked:  "Weiss" on back.  Fabulous condition with no "dead stones".  This brooch measures 2″ in diameter.
$65.00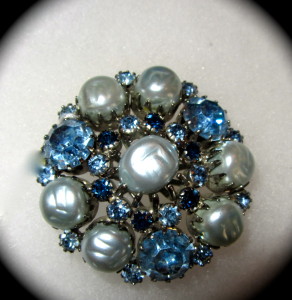 Super sweet and stylish silver necklace, bracelet and pin/brooch set.  All pieces marked in various places.  The detail to the craftsmanship is amazing.  The aqua or turquoise beads are all hand wired in and part of the wire design on the front.  The silver has a two leaves with a single flower, in the center of the flower the blue bead.  This is followed by a "Cuban link chain".  It is a standard cable chain with oval shaped links that resemble rope.  
The necklace has 3 pendant pieces the center being the largest and measures 1 1/4″ and the two beside it measuring 1″.  The total length of the necklace is 18 1/2″.  It has a "hook" style clasp.
The bracelet is made of similar construction on a smaller scale.  The three pendants in the center are all linked to gather (top and bottom).  The largest measures 1″ and the two on either side is 3/4″.  The total length is 7 1/2″ long.  
The brooch or pin measures 1 1/4″ in diameter.  The clasp is hinged and also a "push-in" style.
$195.00
Demi Parure set by Bergere Jewelry.  This company was only in business from  1946-57.  You don't find a lot of this around, for such a limited production.  
Beautiful brooch and earrings with gold tones embellished with rhinestones and orange baubles.  Very vivid colors and in great condition with no missing stones.  The earrings are signed, but the brooch isn't.  
The brooch measures a little over 3″ in diameter.  The filigree in the metal gives it a nice touch of victorian days, but the orange is defiantly a mid-century color!  The earrings are clip style and measures a bit over 1″ in diameter.  
$75.00
Alice Caviness began making jewelry after WWII, the company was based out of Long Island New York.  All of her pieces are characterized by the use of high-quality materials, i.e. crystal stones of unusual colors.  
This 4 strand necklace is a graduated with the shortest length being 15 1/2″ and the longest is 18 1/2″.  These gold tone beads are separated with an aqua or turquoise colored bead that is also trimmed in gold.  The clasp is very decorative and would be a shame to hide behind your neck!  
The earrings are clip style and are approx. 1″ in diameter.  
All pieces are marked:  "Alice Caviness"
$250.00
Lisner jewelry has been around since 1904 and made jewelry up till 1979.  They were best known for distributing jewelry for others, such as Elsa Schiaparelli.  It wasn't until the 1930's that they started making their own jewelry.  They made a wide variety of jewelry, something for everyone!  
The pastel colored rhinestones are set in a rhodium base.  The brooch measures 2 1/4″ long.  The blue tear-drop stone is attached by a jump link so it can move.  The colorful stones have many facets which help catch the light.
The earrings are a clip style and measures 1″ long.  The blue tear-drop on the earring follows the pattern of the brooch.  All the stones are there and these pieces are all marked:  "Lisner" on the back.
$160.00
 
Sander was a small jewelry company founded in 1938 and spanning to 1972.  Their jewelry was usually delicate floral type pieces.  They like to use a lot of enameling in their decoration as well.  It is known for their craftsmanship and artistry.  
This parure of jewelry consists of necklace, bracelet, and earrings.  A construction of blue glass beads and blue enameled leaves is the motif for this lovely set.  The necklace measures 16″ long and is adjustable.  It is 3 strands with gold tone beads in between each bead.  The center has a enameled leaf with a  large blue rhinestone surrounded by 5 clear ones.  
The bracelet has a 5 strands of blue glass faceted beads with blue enameled flowers in the center and on the ends.  This measures 7″ long.  The little blue flowers have clear rhinestones in the center and sparkle like the sun!
The earrings are a clip style and again have the blue enameled leaf on gold tone base with a large blue rhinestone in center.
All pieces are marked:  "Sandor"
$175.00 set