Monthly Archives:
February 2013
Pretty petite antique crystal chandelier.  This is all crystal and has been rewired with white cloth wire.  The top has an umbrella shaped bobeche that has 18 rows if cut crystals that all come down to a point.  The flat crystals give a great sparkle of color with all the facets.  This measures approx. 11″ long and about 8.5″ in diameter.
Super Sweet Manchester Transom Stain Glass Window.  This lovely antique stain glass has 5 roundels set in a textured transparent glass.  There is a lovely color palate of pinks, greens, purples, and yellows.   All the glass is in great condition with no cracks or chips.  The lead is all tight with no sag.  This piece measures 24″ x 14″.  Priced at 250.00 USD
This is a nice large antique beveled Glass Window that measures 29″ x 28″.  There are 21 pieces of beveled glass and all are in wonderful condition with no cracks or chips.  All the lead is tight and has no sag.  There is a wooden frame around the outside, not sure of the kind of wood, it is painted green.  Priced at 425.00 USD.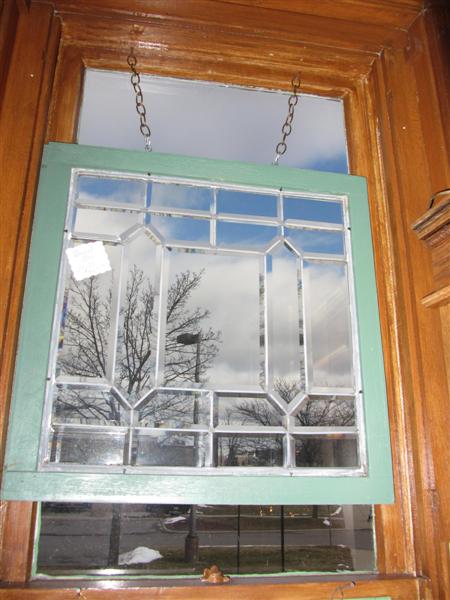 Lovely Leaded antique beveled window that measures 25″ x 22″.  This originally was a cabinet door.  There are a lot of great beveled edges that reflect the light beautifully.  The lead between the glass is all tight and has no sag.  Wooden frame surrounds this and the original  hardware for the cabinet remain.  Priced at 275.00 USD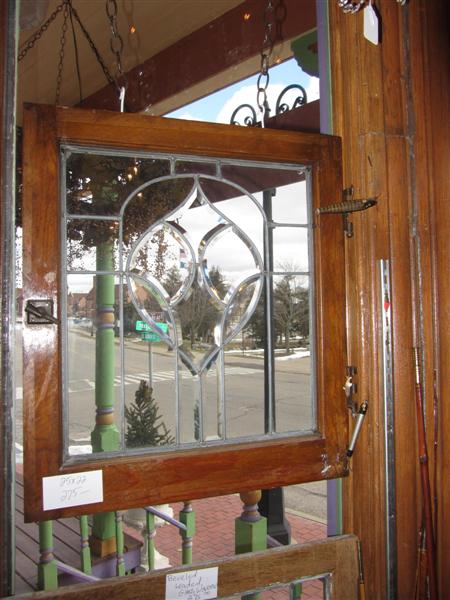 Stunning 5 arm Antique Cranberry Czechoslovakian Chandelier!  This chandelier dates to the 1930's.  Cranberry Glass with  layered milk glass that is all mouth blown with  hand painted flowers that decorate this lovely light fixture.  There are lots of cut glass crystals that just make this POP!
This chandelier measures approx.  28″ long and about 21″ in diameter (these measurements are taken to the bottom of the crystal).  There is no damage and it has been rewired with white cloth wire.  Pictures just don't do this piece justice.  Priced at 1200.00 usd
Beautiful Cup and Saucer made by Royal Albert.  This is apart of the "Woodland Series" the Baltimore Oriole.  This Bone china set is trimmed in gold and on a white background.  Vivid graphics with a Baltimore Oriole on both the plate and cup.  Wonderful condition with no cracks or chips.  Priced at 30.00 usd.
Fantastic set of Pyrex Mixing bowls in primary colors.  These bowls are all in excellent condition with no cracks or chips.  The colors on the outside are bright and vivid with hardly any signs of use.  In this set, the largest bowl is yellow, green, red, and blue.  All marked Pyrex on the bottom.  Priced at 120.00 usd.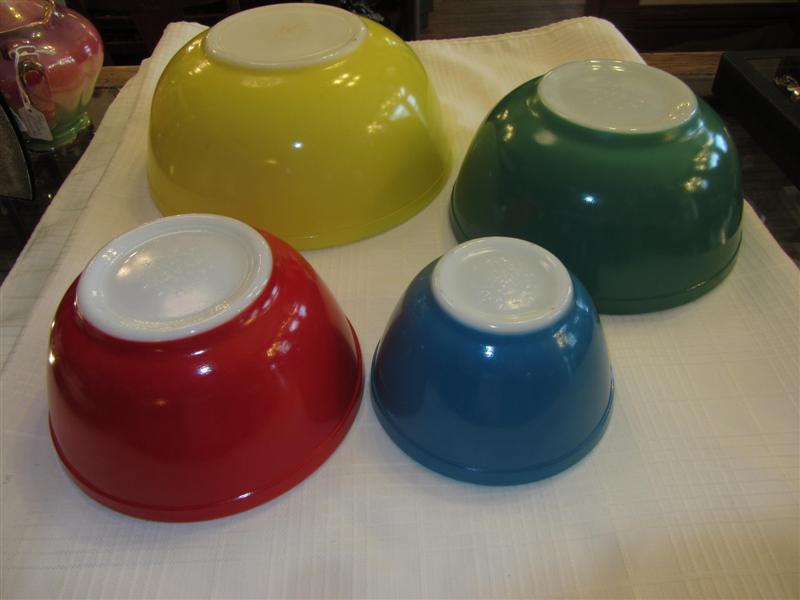 Royal Winton Grimwades Lusterware Teapot Set.  This sweet set consists of the teapot with a lid and creamer and sugar bowl.  All in wonderful condition with no cracks or chips.  Gorgeous glaze that is luster ware style. Lusterware is a type of pottery or porcelain with a metallic glaze that gives the effect of iridescence  produced by metallic oxides in an over glaze finish.   

The edges are all in trimmed in gold.  There is no cracks or chips or damage of any kind.  The bottom is a light green that blends into a cranberry pink color that goes back to green at the top.  Bottom is marked:  "Royal Winton Grimwades Made in England".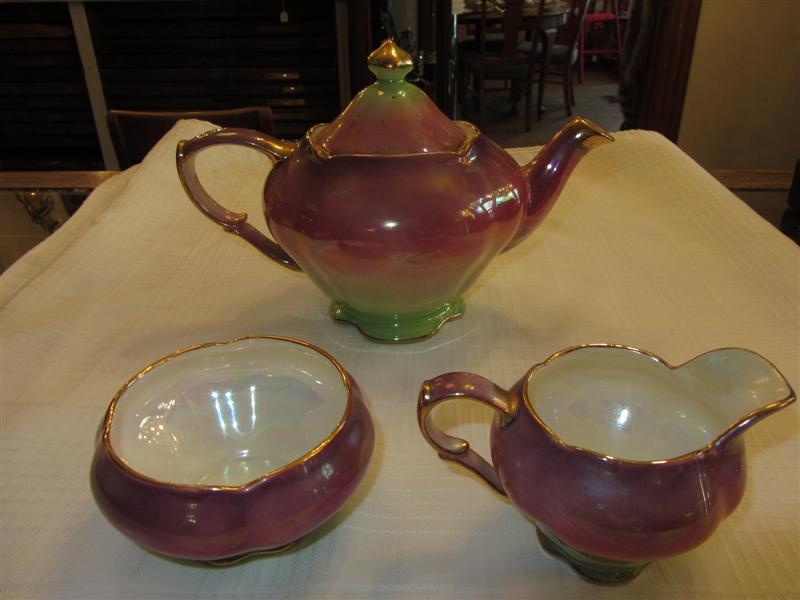 Super sweet Shelley Teapot set in the Primrose pattern.  Teapot and cups and saucer are all in excellent condition with no cracks or chips.  The cups and saucers have scalloped edges that are trimmed in a soft green.  The petite yellow flowers on the front are also on the inside of the cup as well.  All pieces marked:  "Shelley Fine Bone China England Primrose" on the bottom.