Monthly Archives:
October 2013
This gorgeous Juliana set includes earrings and a necklace.  There is a lot going on in this set.  Glad the earrings are with this necklace, it would be hard to match.  The main stones are purple with a black stripe.  In the book they are referred to as "tortoise stones".  The look like zebra stripes to me.  Hot fuschia pink  with a few aurora borealis stones to pull it all together.  This is really a stunning set.  Clip earrings all prong set stones.
Price at 225.00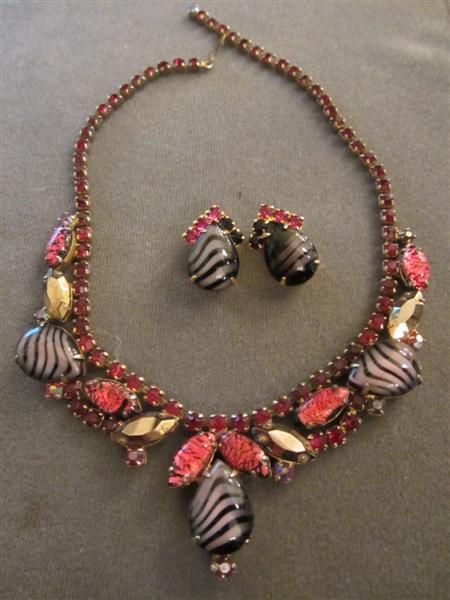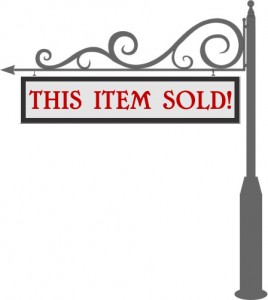 Lovely 3 piece set that consists of necklace and earrings.   This matching set has a large emerald cut green rhinestone that is adorned by pearls on all four sides, the outer edge has a scrolled enamel painted design with pretty peridot colored rhinestones.  Such amazing detail, it really is a show stopper!  Gold tone filigree that is marked "Western Germany" .  the necklace has a 12″ drop and the pendant measures 2″ long.  Such detail to the chain around the pendant too.  Earrings are clips.
Priced at 150.00 set
Vermeil Sterling Owl Duette Brooch.  This brooch actually breaks down into three "dress or fur clips".  Duettes were sold on a metal frame fitted with a brooch pin.  When clipped onto the frame, the two individual pieces look like a single pin.  Coro Duettes were popular throughout the 1940's.  These owls are marked on the back.
Priced at 135.00
Lovely three piece set by Beaujewels.  The Beaujewel Jewelry company was established in the late 1940's .   Flowers and leaves are recurring motifs, often portrayed in dramatic and unusual colors.  This particular set consists of a brooch and a pair of earrings.  All pieces are prong set and have bright vivid stones in them.  The two prominent colors are pink and purple with aurora borealis stones in the center.   The earrings are signed but the brooch is not.
Priced at 145.00 set
Juliana Brooch and earring set.  Fantastic condition with all prong set and glass stones.  These stones are known by several names.  The official and correct is "pillowcase".  Yellow and amber colored stones with an aurora borealis finish.   Today they are described as "satin glass ribbed givre stones" or "sunburst" .$225.00