Monthly Archives:
January 2014
Marvelous Miriam Haskell Brooch and Earrings
Glass Flowers, Pearls, and Rhinestones all set in golden leaves and wired onto a gold filigree back.  This is truly a wonderful set that shows all the craftsmanship that Miriam Haskell was known for.  All pieces are marked.  The brooch has the oval plaque and the earrings are signed on the back as well.
The brooch is an irregular shape but measures approx 2 1/2″.  This brooch is a combination of pastel colored glass flowers and pearls poking in-between with tiny clusters of prong set rhinestones on the edges.  A lovely floral scene that has amazing detail.  
The earrings have a larger pearl with white glass flowers and the rhinestone clusters on the edges as well.  The earrings measure 1 1/4″ approx.  They are clips but have an adjustable spring.  
$225.00
Classic Crown Trifari Bracelet and Earring Set
This vintage pearl bracelet and earring set is in wonderful condition with no missing rhinestones or pearls.  The gold shows no wear and looks amazing for its age!  Both pieces are marked with the crown Trifari mark.
The bracelet measures 7″ in length.  Fold over clasp and also a safety chain.
The earrings are clip style and measure approx. 1″.  
Pearls are such a classic and can be dressed up or down.  Dressing up just a pair of jeans and a nice blouse!
$60.00
Two-tone Vintage Purple Brooch
Wonderful shades of purple shine through this beautiful brooch.  One large cabochon surrounded by navettes, tear-drop, and square stones, bring it to life!The cabochon in the center is see through with a crackle effect.  It almost has a pink tint to it, it is so light.  The navettes are the same color.  The tear-drop shape is a darker amethyst color.  All of these stones are prong set and open on the back side.  This brooch is unmarked and set in a gold tone setting.
$65.00
Vermeil Sterling Silver Amythest Brooch
Great pin with a whimsical flair.  Shaped kind of like a question mark!  Two nice size faceted amethyst colored stones, that are prong set.  Open ends on the stones lets light come through for a fabulous color.  The brooch measures 3 3/4″ in length.  Marked "Sterling" on the back.  
$65.00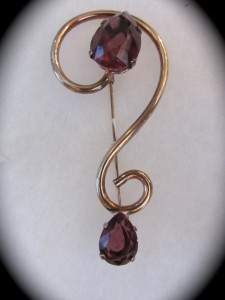 Two-tone purple vintage jewelry set.  Wonderful craftsmanship with all prong set stones.  the light lavender stones are square and the amethyst stones are "emerald cut".  Gold tone backing, no mark.
The necklace is 14 1/2″ long with a 2″ drop in the center. Lovely two layered design gives this a great look!
The bracelet measures 7″ long with fold over style clasp.
Earrings are a screw back and do have a bit of a dangle.  They hang 1 1/2″.
Set 175.00
This amazing brooch has a fabulous "fan" shape.  A variety of green stones in different shapes and sizes really makes a statement.  There are aura borealis stones and pearls that bring it all together capturing all the colors.  Set in a gold tone setting and marked on the back: "Kramer" and also "Made in Austria".  This brooch measures about 2 1/4″ in diameter.  
Kramer Jewelry Creations started in 1943 in New York and closed their doors in the late 1970's.  In the early 1950's they also manufactured pieces for Christian Dior.
$85.00
Beautiful Blue Brooch! What a lovely combination of bright baby blue rhinestones and bluish-grey pearls. 
The back is rhodium and these stones are all dog-toothed prong set.  All these stones are highly faceted and shine brilliantly.  This pin is marked:  "Weiss" on back.  Fabulous condition with no "dead stones".  This brooch measures 2″ in diameter.
$65.00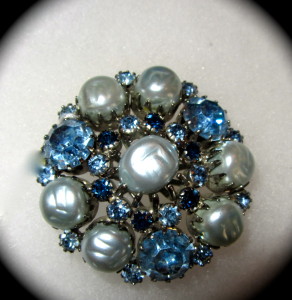 Super sweet and stylish silver necklace, bracelet and pin/brooch set.  All pieces marked in various places.  The detail to the craftsmanship is amazing.  The aqua or turquoise beads are all hand wired in and part of the wire design on the front.  The silver has a two leaves with a single flower, in the center of the flower the blue bead.  This is followed by a "Cuban link chain".  It is a standard cable chain with oval shaped links that resemble rope.  
The necklace has 3 pendant pieces the center being the largest and measures 1 1/4″ and the two beside it measuring 1″.  The total length of the necklace is 18 1/2″.  It has a "hook" style clasp.
The bracelet is made of similar construction on a smaller scale.  The three pendants in the center are all linked to gather (top and bottom).  The largest measures 1″ and the two on either side is 3/4″.  The total length is 7 1/2″ long.  
The brooch or pin measures 1 1/4″ in diameter.  The clasp is hinged and also a "push-in" style.
$195.00