Furniture
This is a 1929 Dental Cabinet.  This cabinet stands 52″ tall x 38″ wide x 14″ deep.  Great size and holds a lot!  It is made of wood on the outside with steel drawers.  The top has 3 cupboards, the outer two have milk glass shelves on the inside.  All 14 drawers open with ease.  You will notice that there are two larger drawers on the bottom too.  The top "counter" has a nice piece of glass sitting on top for a nice classic clean look.
This would make an amazing jewelry box.   It would also be great for holding crafts or sewing notions.
Priced at 1400.00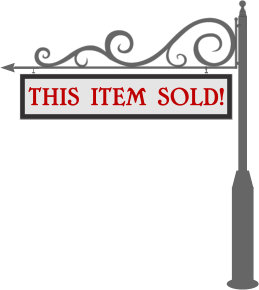 This is such a great piece of furniture!  Made out of  Oak this barrister cabinet is in great condition with no damage.  All the original glass is still intact and has the "wave" to it.  Each of these shelves has a label on the inside.  "Global Wernicke   pattern 312 grade 998 1/2".  These shelves are graduated, the two at the bottom are slightly larger.  All the glass shelves move with ease and slide on top to expose the inside.
This is a true mission style bookshelf, sometimes called a "Lawyers book case" or "Lawyers bookshelf".  All the hardware is original.  The bottom has a drawer, which we don't see a lot.  In case you are not familiar with this style of shelf, it all breaks down.  That means that each shelf is its own.  There is a "caper" at the top and the "base" at the bottom.  When broke down there are 7  pieces.  This stands 79″ tall x 34 1/2″ wide x 11 1/4″ deep.
Price 1200.00
What a treat to find a bed that is so sweet!  This is the real deal!  No reproduction, made in the late 1800's.  This is a fantastic Victorian era  full size cast iron bed.  Antique Art Nouveau Full size cast iron bed Black and gold scroll detail on both the headboard and the foot board.  Complete in tact with the original bed rails.  The headboard stands an impressive 64″ tall and the foot board stands 40″ tall.
Priced at 1200.00
Super sweet sideboard made of Mahogany.  This buffet was made by Brickwede Furniture in 1949.  This piece has great lines and a serpentine front.  There are two drawers that are centered at the top and one longer drawer underneath.  All three drawers open with ease.  There is also 3 cupboards on the bottom.  The hardware is brass  and all original.  This gently used vintage credenza measures 54″ long x 36″ tall x 18 1/2″ deep.   Priced at 475.00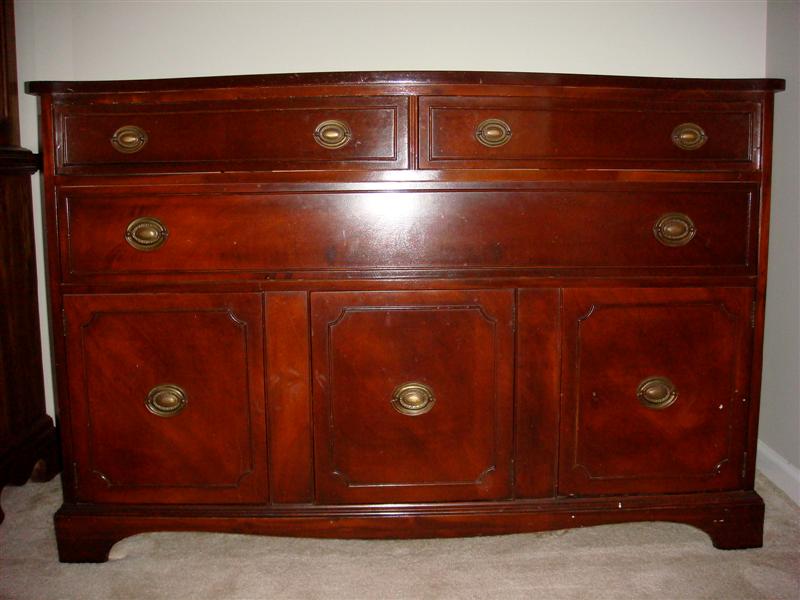 Really nice round Mahogany Duncan Phyfe Table with a Leather Top.  This table has 2 drawers  and 2 false drawer.  The table itself stands 28″ tall and measures 28″ in diameter.  The leather top is in great condition.  The leather top is trimmed in with a gold wreath around the edge. All the hardware is intact including the brass covers for the legs.  Priced at 225.00  
Wonderful Walnut Gate Leg Table.  This is the type of table that has a lot of uses.  Great for an entryway or hallway when sides are down or extend it to its full size and use it that way.  This table measures 32″ long x 29″ tall x 12″ deep.  When it is extended it measures 42″ x 32″.  The legs are spindle style and really add nice detail to this table.
1940's Walnut Vanity with mirror.  Two drawers on each side with decorative fronts. Top of vanity has a scalloped edge and also comes with  a custom cut piece of glass that really adds a nice touch.  There are four drawers, two on each side with decorative fronts.  This vanity is 42 1/2″ long and 18″ deep. Priced at 245.00 usd
Super Sweet retro cabinet.  This is all wooden with glass fronts.  Adjustable shelving on the inside and on the sides.  Magnetic latches for the doors with wooden handles for a nice easy open.  This mid century modern shelf is in great condition and dates to the 1950's or 60's.  This bookshelf stands 39″ tall x 43″ wide x 11 1/2″ deep.  Price is 250.00 usd
Super sweet 1950's Kitchen Cupboard.  Glass doors up top with a red and black design painted on the front.  Three drawers below with 2 cupboards also.  This cabinet is painted white with a distressed finish and chrome handles.  This hutch stands 68 1/2″ tall x 30 1/2″ wide x 11 1/2″ deep.   Priced at 325.00 usd