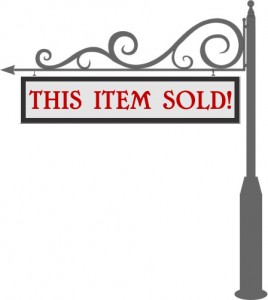 Lovely 3 piece set that consists of necklace and earrings.   This matching set has a large emerald cut green rhinestone that is adorned by pearls on all four sides, the outer edge has a scrolled enamel painted design with pretty peridot colored rhinestones.  Such amazing detail, it really is a show stopper!  Gold tone filigree that is marked "Western Germany" .  the necklace has a 12″ drop and the pendant measures 2″ long.  Such detail to the chain around the pendant too.  Earrings are clips.
Priced at 150.00 set
 Wonderful antique necklace with red and purple stones all prong set.  Such a stunning piece the pictures just don't it justice!  Huge, chunky red rhinestones with beveled edges and others with facets set in a gold tone.  Each larger stone is set in a tiffany style setting (prongs surrounding the whole stone).   The outer layer of red stones are also all prong set.   All the stones are bright and colorful, such a fun piece.  This necklace is not signed, but it would not surprise me if this was a Juliana piece.
Priced at $285.00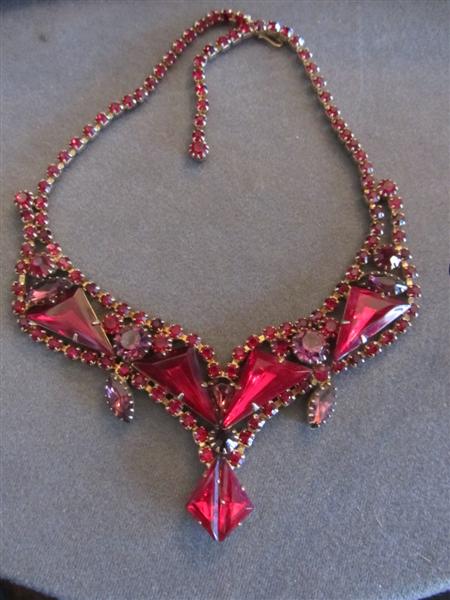 This delightful necklace, earrings, and bracelet in emerald green with stones called arrow stones and accented with AB chatons and oval beads.  Great example of Juliana Jewelry complete with the original tag.  The back of these pieces are made of rhodium and all stones are prong set.  Excellent condition with no missing stones.  Juliana pieces were never marked but a trained eye can tell by the construction of the piece and sometimes the stones used.
This here is a small collection of some of my favorite vintage yellow jewelry that we have in.  We carry a little bit of everything, necklaces, bracelets, earrings, brooches, and much more!  Shown here from left to right:
Stretchy bracelet faceted beads 12.00

"Button-Style" earrings AB rhinestones with multi shades of yellow beads 1 1/2″  28.00

Hibiscus Floral Earrings w/ AB Rhinestones  24.00

Yellow Glass Bead 22″ Necklace silver clasp 60.00

Yellow Plastic floral & rhinestone 16 1/2″ necklace 35.00

Yellow crystal dangle earrings  32.00

Double strand yellow necklace w/ enameled floral center w/ AB Rhinestones  65.00

Brooch  and Earring yellow plastic flowers with rhinestone centers 32.00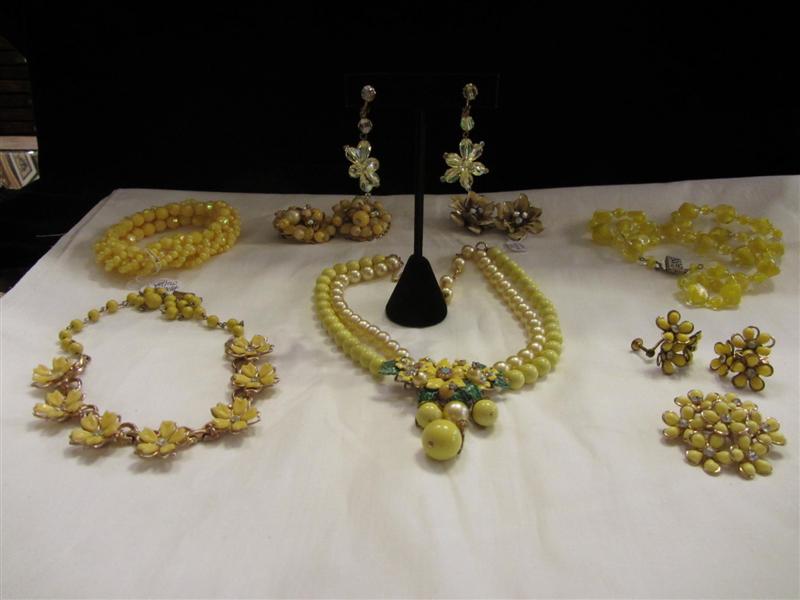 This groovy green necklace is made of Lucite and the backing is coated in rhodium   This is true mid-century jewelry, straight out of the 1960's.  The necklace  measures 16″ long, it does have the adjustable clasp for a smaller fit too.  The earrings are 1 1/2″ and are clip style.   This is an unusual shade of green or yellow, more like a chartreuse green.  This vintage earring and necklace set is in great condition with no damage.
I have also added another pair of earrings to this pictures.  The "button style" earring has rhinestones center with a white Lucite in the middle.  Priced at 18.00
Priced at 55.00 set