Monthly Archives:
February 2013
 Just in a gorgeous green stain glass measuring 22″ x 29″.  This  amber hammered glass background, terrific hand bevel oval in the center, with a green/white ripple glass border. All the glass is in excellent condition with no cracks or damage.  The lead has also been reinforced so there is no sag in the glass.  Such an unusual
 color there are three different shades of green.  This was in an old house, hence the wooden frame.  This can be hung either way, vertically, like we have it or sideways like a transom window.  Priced at 395.00.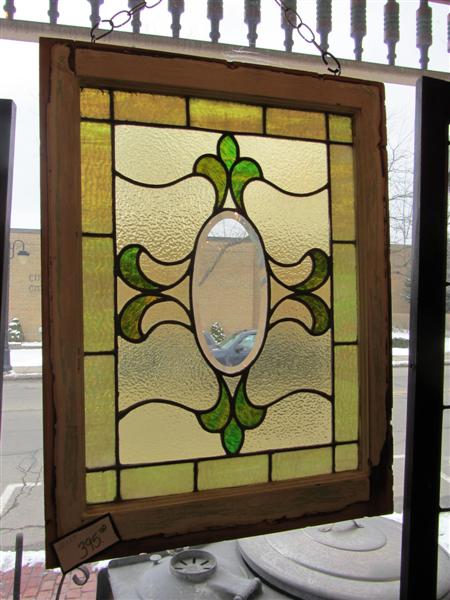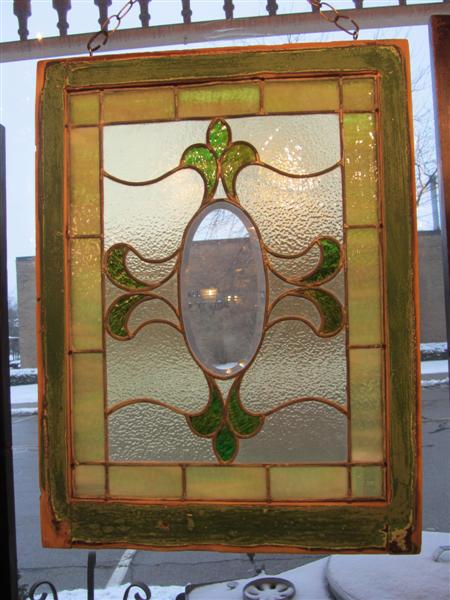 Pretty pink and white lazy susan made by Hull Pottery in the 1950-60's.  The sweet retro turntable has four dishes surrounding a middle covered dish that all sit atop a turntable that spins.  Great condition with no cracks or chips.  The turntable is wooden.  Marked on each piece is "Made in USA".  Priced at 25.00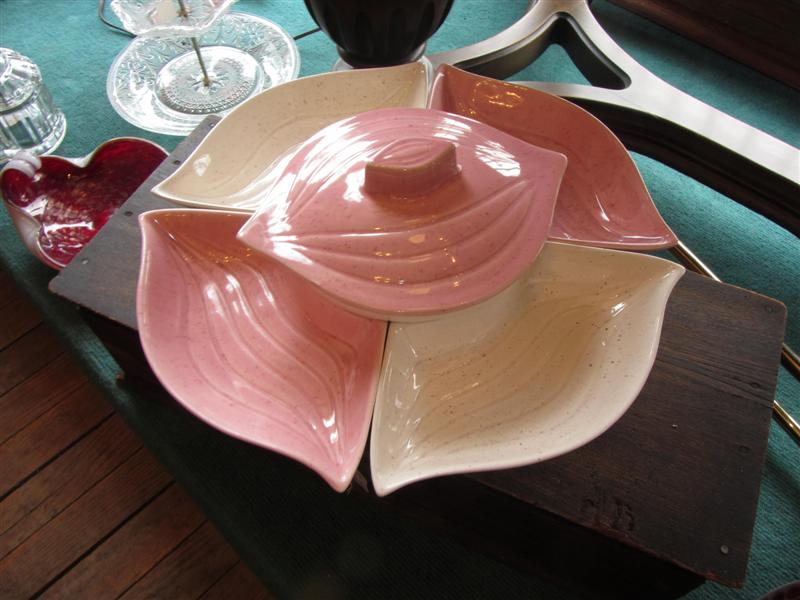 Shown here are a few different pieces of the 1960-70's olive green kitchenware.  We have two "Cinderella" shaped in the Spring Daisy pattern by Pyrex.  The small bowl is 1 1/2 qt and the larger one is 4 qt.  Shown also are 4 Fire King Mugs in the "Kimberly" pattern and also a Pyrex left over dish with the lid (lid does have a small chip).  
So many happy things in the red cabinet.  The top shelf has 6 juice glasses that have cherries on them.  Besides those are the Fire King Polka Dot Bowls.  The bottom is a mixing bowl, sitting on top is a grease jar with the lid.  The middle shelf has a super cool Brad Keeler Lobster dish and a nice red Pyrex left-over dish.  The bottom shelf has a Hall "sundial" pattern covered casserole dish and there are some Hazel Atlas Striped tumblers too.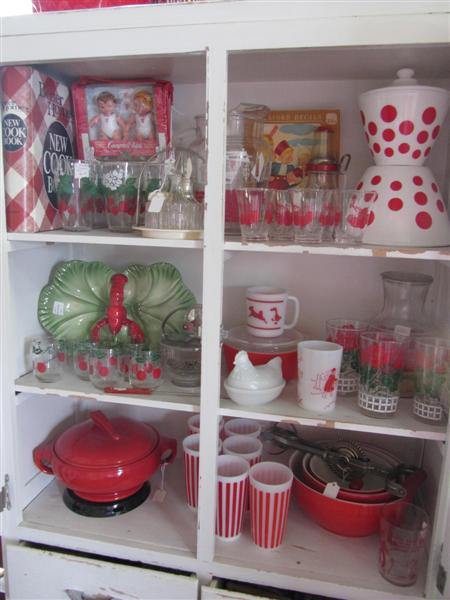 Fabulous Forest Green Pitcher and Tumbler set in the a "Ripple" Pattern.  Anchor Hocking Glass Company produced this Forest Green from 1950-67.  There are four tumblers that hold 9 1/2 oz and the pitcher holds 86 oz.  All five pieces in great condition with no cracks or chips.  Ready to serve up whatever you are making!  Priced at 80.00 for the set.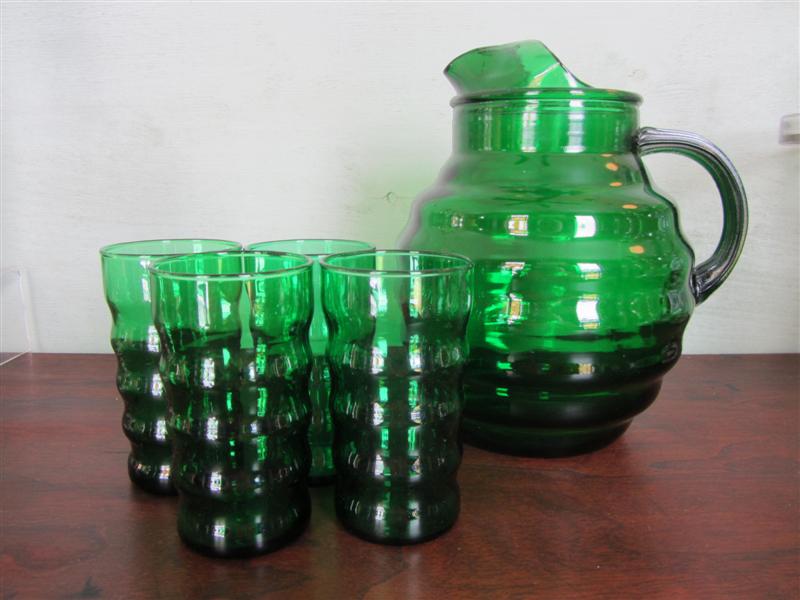 9 piece canister set with lids.  These were produced by Owen-Illinois in the 1930's at the West Virginia Plant.  This set comes with three different sizes.  The largest canisters measures 7 1/4″.  The labels are for Coffee, Sugar, Flour, & Cereal.  The next highest measure 5 1/4″ tall.  There are two Rice and Tea.  The smallest stand 4 1/4″ tall.  Sugar, Pepper, and Salt.  The last three all have the shaker lids.  The others all have aluminum lids that are in nice condition.  You will notice that some of the labels are a worn a bit more than others, but they are old!  
All of them are great condition with no cracks or chips.  The diagonal ridged pattern is on all nine jars.  They are all marked on the bottom too with the Owen-Illinois diamond in the circle too.  Priced at 195.00 for set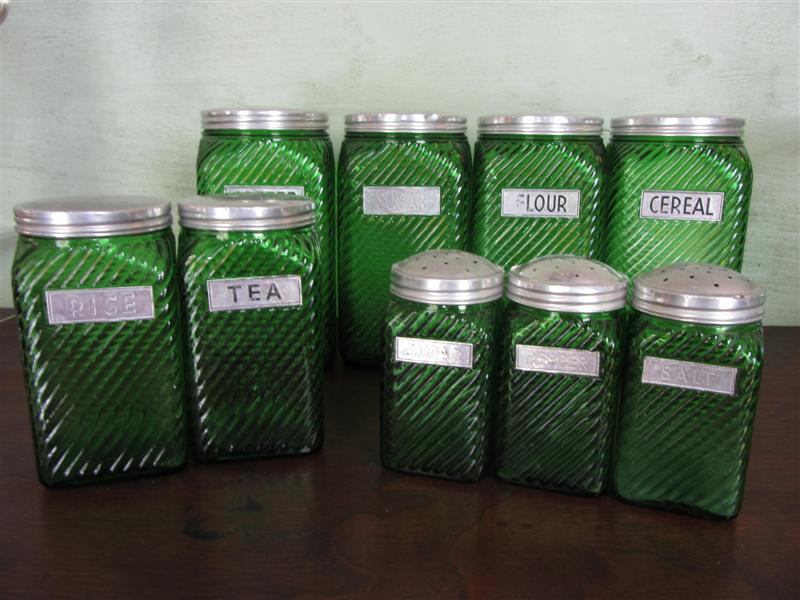 Gorgeous Green and Blue Bracelet all prong set with the larger cabochon stones being in a "Tiffany Prong" setting.  There are several blue and turquoise colored stones that are also prong set.  Although this piece is unsigned I would date to the 1950's.   This bracelet measures 6 3/4″ long.  Priced at 78.00 USD
Fabulous Forest Green Glass!  Pictured here are a few pieces.   Anchor Hocking Glass actually copyrighted the name "Forest Green" back in the late 1940's.  You may also recognize these patterns in their other color of  "Ruby Red".
This punch bowl that you see here comes with the original box.  The full sets consists of:
12 Cups

Punch Bowl 10″

Punch Bowl Base
The two decanters have ground glass tops and were also produced by Anchor Hocking in their Fire King Division.  They are in wonderful condition with no damage.  They have the "pinched" sides that makes for easy handling.  They stand 11″ tall.
Also shown are tumblers in the "Inspiration" pattern, often confused with the "Boopie" pattern.  We have 3 juice glasses and 5 Ice Tea Tumblers.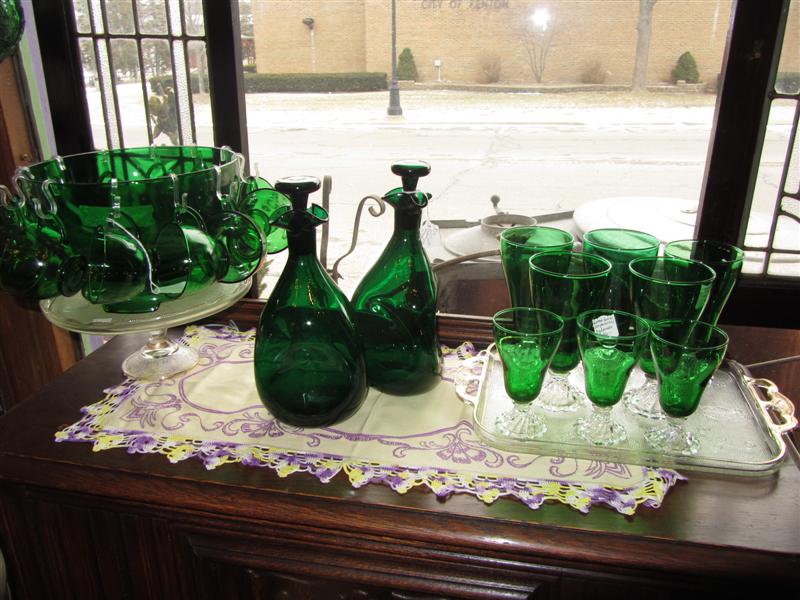 Just a small example of some different doorknobs we have.  There are four sets here in different patterns and a few that are purple.  This purple comes from an older glass knob that has seen the sunlight for years and years.  There is a chemical reaction that happens from the sun and the lead in the glass.  
There are several pattern, sizes, and shapes of glass doorknobs.  Most of these can also be used in the doors today.  
Classic and elegant this service for 16 + serving pieces.  This was made by 1847 Rogers Bros.  The pattern name:  "Eternally Yours" was produced in 1941 and remains a very popular pattern today.  The cut out design at the bottom is simply elegant with a lovely floral arrangement and a bow.  This does come with the silverware box too.  This silver plate set includes the following:
16  Dinner Knives

16  Dinner Forks

 

16 Salad Forks

16 Soup Spoons

32 Teaspoons

 2 Butter Knife

2 Sugar Spoons

4 Serving Spoons